At Derian House Children's hospice, we recognise that each and every family have very individual needs.
Experiencing the death of a child is one of the most devastating things that can happen to anyone. The support we offer in the time before death, immediately after and in the following months and years is flexible and aims to work with the immediate family members through a variety of ways.
Following the death of your child or young person, as an alternative to using a funeral director our sunflower rooms are available and family members can also stay in our family flats. Should the family wish to stay at home with their child, we will endeavour to enable this wherever possible, liaising with local funeral directors.
Our family support team can offer immediate holistic care, providing emotional and practical support and guidance.  We can offer help with funerals, registration, collecting memories and sibling support – all according to the family's wishes.
Our ongoing support may include telephone contact and group sessions for parents, grandparents and siblings or counselling support for any family members if needed.
Our care and ongoing support from Derian House for you and your family will continue following the death of your child.  We are here to support you and your family throughout your individual journey at a pace suitable to your needs.
Note: Bereavement Group Information Below Picture
Reflection Room at Derian House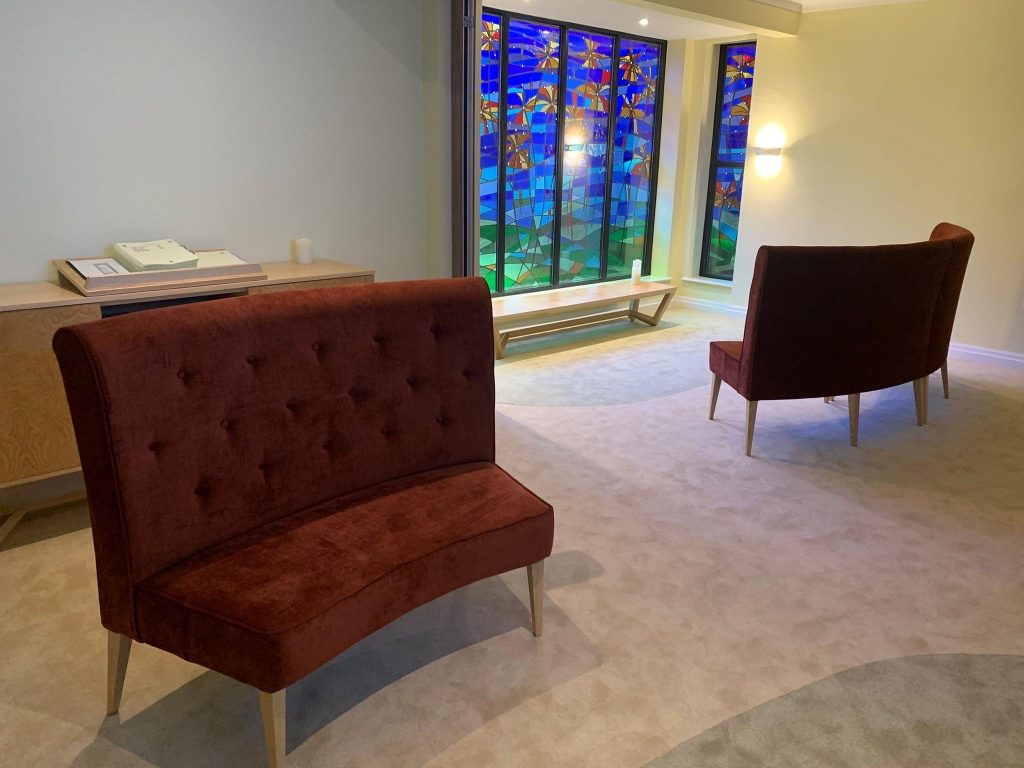 Bereavement Groups
Stepping Stones
Stepping-stones is a bereavement support group offered to parents approximately 3-6 months following the death of their child, although the timing will take into account the needs of the family. The groups meet as a closed group monthly for up to a nine-month period. This gives parents the opportunity to meet other bereaved parents in an informal setting and offers peer support. Two members of the Family Support Team facilitate the sessions.
Pebbles
This runs concurrently with Stepping Stones and offers support to bereaved siblings whose parents are attending Stepping Stones. It also gives them the chance to meet other siblings in a similar situation.  The group offers support through play giving opportunity to express feelings in a friendly atmosphere. These sessions are facilitated by Sibling Support and one of our Play Specialists in the Play Zone of the hospice.
Cornerstones
The relationship between grandparent and grandchild is unique, so when a precious grandchild dies, the feeling of grief that accompanies that loss is incredibly complex. For the grief is not only for the death of their grandchild, but also the pain of seeing their own child desperately trying to come to terms with a loss that is almost too much to bear.
Cornerstones offers monthly support through a group session in the Seaside Room at Derian House. Helping support Grandparents through the loss of their grandchild, making sense of their overwhelming feelings perhaps supporting their own child, whilst struggling to cope with their own loss.
Cornerstones also offers an opportunity for grandparents to socialize and help each other to heal through shared memories and experiences.
Please contact the Family Support Team via email families@derianhouse.co.uk or telephone 01257 233 300