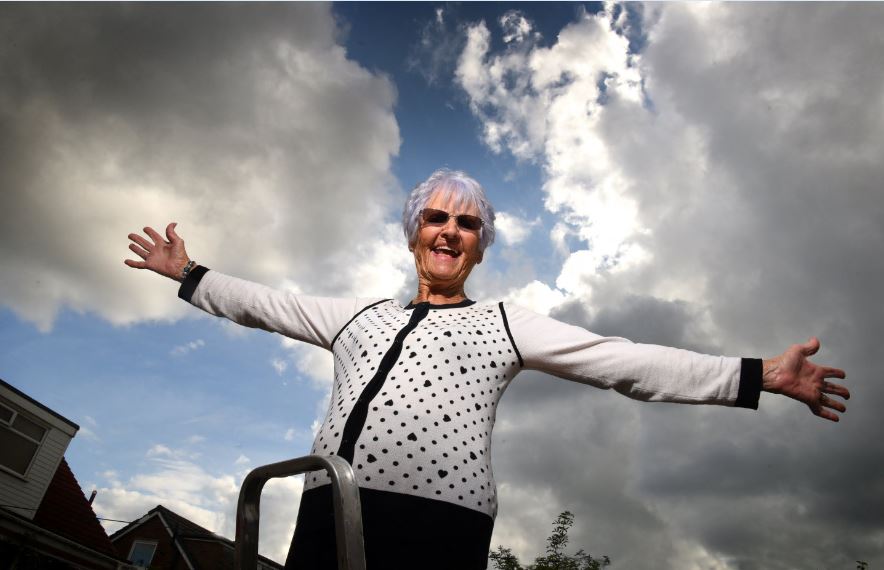 The sky is the limit for 90-year-old Patricia Baker, who is jumping out of an airplane this weekend to raise money for children at Derian House Children's Hospice.
The great-granny, from Farington, decided to mark her big birthday by skydiving from 15,000ft to raise much-needed funds for the charity.
Although she turned 90 in July, the coronavirus pandemic meant her daredevil stunt had to be postponed. But determined Pat has rescheduled for this Sunday (4 October).
She will be cheered on by daughter Carole and sons Michael and Stephen and has already more than doubled her original fundraising target of £500 with her current total sat at £1,300.
Pat will split the money raised between Derian House and Hillside specialist school in Longridge, which supports her great-grandson Max.
Adventurous Pat, who has six grandchildren and four great-grandchildren, said: "My friend had her 90th birthday a week before me, in July. She was telling me about her 'bucket list' of things she was going to do and asked what mine was. I said I'd not really thought about it, so I had a think and decided to do one big thing instead.
"I have always wanted to skydive, but it just never came up over the years. I'm not frightened of heights – I've been up in a hot air balloon and paragliding before but I've never been to 15,000ft so this will be a new experience."
Before Pat was allowed to take to the skies, she required a letter of approval from her doctor – but her GP originally refused to entertain the idea.
Not to be deterred, Pat took matters into her own hands and completed a rigorous medical test at Black Knights Parachute Centre in Cockerham, where she will jump from. The tests saw her harnessed-up and suspended from the ceiling as well as timed holding her legs up to see if she could land safely – all of which she passed with flying colours. Pat returned to the GP's surgery armed with her results and was duly given the all-clear.
Pat admits that her friends at the crown green bowling club she plays for think she's "crackers" but said that they have all sponsored her and are behind her all the way.
Daughter Carole, 59, from Penwortham, said: "We're really proud of mum for doing this. When she told us her birthday plans I did think she was crazy, but I wasn't surprised. It's typical of our family to do something like this!"
Pat has been in training for the weekend, doing 50 sit-ups a day and morning stretches.
"I wouldn't do this for myself," Pat continued, "but I thought I'd like to do it to raise money for children. I wanted to do it for Derian House because the children there don't get to have a full life like I've had and I think the work the staff do is fantastic."
Caroline Taylor, Communications and Marketing Manager at Derian House Children's Hospice, said: "We see some truly amazing fundraising challenges here at Derian House but what Patricia is doing is simply inspirational. What a legend!
"At Derian House we look after more than 400 babies, children and young adults with life-limiting illnesses, making sure they get the very best care and have the opportunity to create precious memories with their families.
"It is only down to the generosity of supporters such as Pat that we are able to offer this service and on behalf of all of our children and their families we are truly grateful."
You can sponsor Pat's skydive here: https://www.justgiving.com/fundraising/patricia-baker-90
PIC CREDIT: Neil Cross, Lancashire Post.