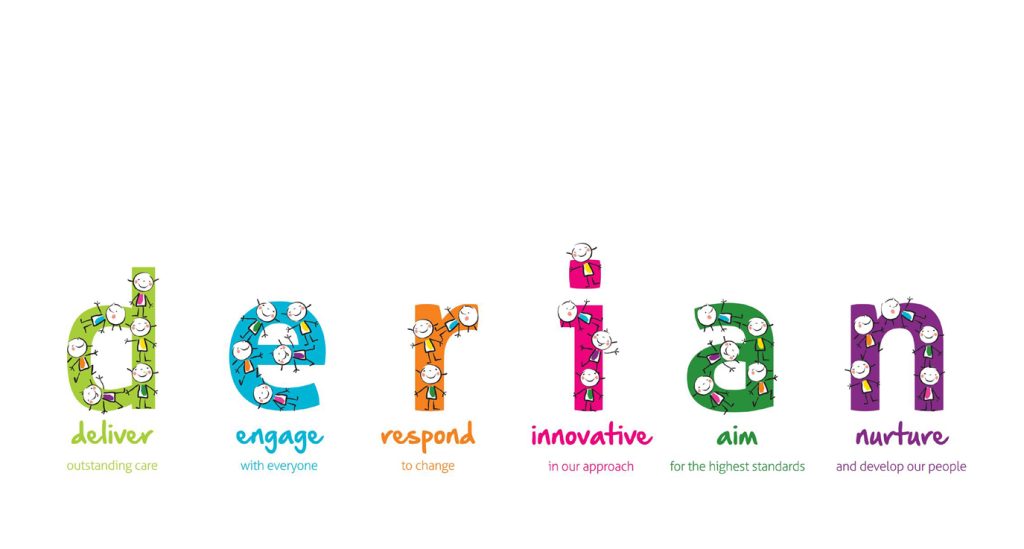 Our Derian Values have been co-produced by staff and volunteers at Derian House, and are supported by the Board of Trustees. We have six values, each based around letter from the word DERIAN, to reflect the passion we have for the work our hospice does.

Deliver
We will deliver and sustain quality, outstanding care and go the extra mile. We will seek to give 100% in everything we do, putting the children, young people and their families first.

Engage with Everyone
We believe all opinions matter. We will actively seek to engage with everyone by building strong relationships, asking for views, listening with curiosity, seeking to understand and valuing all contributions.

Respond to Change
We will positively respond to change by seeing it as a journey in which we will work together to adapt, reflect and improve. We recognise it may be a bumpy ride but we will seek to embrace it in order to always move forward.

Innovative
To be innovative in our approach, we will be bold and brave. We will strive to break new ground by being creative and feeling empowered to "break the mould" by generating pioneering future-focussed ideas to inspire others in our field.

Aim for the Highest Standards
In every action we take we will aim for the highest standards. We will work as one team to jointly deliver an outstanding service through living the values and challenging ourselves to be the best we can be.

Nurture and Develop Our People
To be a centre of excellence we need to nurture and develop our people. We will care for each other, help one another to develop and grow so collectively we can all achieve our full potential.
Derian Strategic Aims