A FIVE-year-old boy is running 100 miles in 100 days to raise money for sick children.
Archie Richardson, of Tottington in Greater Manchester, is more than half-way to his goal and has already raised a staggering £1,250 for Derian House Children's Hospice.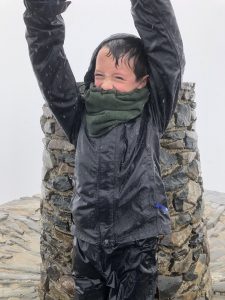 The Tottington Primary School pupil even persuaded his mum and dad to climb Mount Snowdon in the pouring rain as part of his ambitious challenge.
Proud mum, Claire Louise McDonald said: "When we talked about fundraising, Archie said he would like to try to help other boys and girls and so we agreed that Derian House Children's Hospice was the perfect charity to support.
"They do incredible work, offering respite and end-of-life care to more than 400 children and young people from across the North West, as well as providing support for the wider family too. We cannot think of a better reason to run in the pouring rain for 100 days!"
Derian House Children's Hospice, based in Chorley, helps babies, children and young people with life-limiting conditions to make happy memories in an environment of fun, respect and high quality care.
"Archie was so excited when he received his fundraising pack from Derian House, he's been using the star stickers to mark off the days on his calendar and even though the T-shirt is a bit big for him he looks adorable wearing it," Claire said.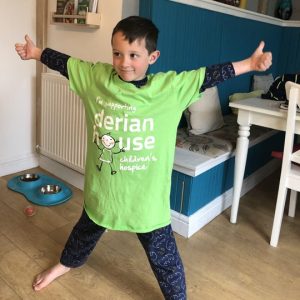 Dad, Monty Richardson, has been running with Archie most days and they are sometimes joined by Archie's friend and next door neighbour, Oliver Howells.
Claire continued: "Archie's level of fitness is unbelievable and we hope that he will keep it up after the challenge. It's also helped to improve our family's fitness too and we were even able to climb Mount Snowdon together, which was a fantastic experience. Archie kept all our spirits up, despite the unbelievably wet weather.
"Archie can't believe the total and gets so excited when a new sponsor comes through. Although he has smashed his original target of £100, he wants to keep raising more for Derian House. We're bowled over by the support he's received, especially given the hard time people have been through recently. Palliative care is close to my heart and I appreciate how badly hospices need funding."
Charlotte Robinson, Community Fundraiser at Derian House said: "Archie is one of our youngest supporters to take on such a demanding challenge and we are extremely proud of his achievements.
"At Derian House, our aim is to make sure the life of every child matters, and to ensure that our families are able to make the very most of every moment they have together. With services costing £5 million to run every year – and just 12 per cent of that coming from government funding – it is only down to generosity such as Archie's that we are able to continue."
Archie has been rewarded with a certificate and medal each time he has completed 26 miles – the length of a full marathon. He is working towards a trophy for completing the 100 miles challenge, and a new Lego set to celebrate his amazing effort and dedication.
You can keep updated on Archie's progress and sponsor his 100 miles challenge here: https://www.justgiving.com/fundraising/archierichardson05