A couple whose sons are cared for by Derian House have raised more than £2,000 by walking from Bolton to Blackpool. 
Daniella Wroth and her partner Julian Crossman, from Westhoughton, undertook the 30-mile trek on 27 March, reaching Blackpool Tower in just over 11 hours. 
Daniella said: "The walk was both mentally and physically challenging. The first 10 miles were great, we were full of adrenaline and the sun was shining. 
"But then things started to get tougher, our legs began to seize and we started to suffer with blisters. But aside from the occasional rest stop, we just powered through. The best part of the walk was when we hit Blackpool and could see the Tower getting closer." 
The epic walk has so far raised over £2,000 for Derian House, a Chorley-based charity which cares for more than 400 children and young people with serious conditions from across the North West, helping them to make the most of every moment. 
The children's hospice is an especially important place to Daniella and Julian as it is where their twin boys, Arthur and Tommy, receive care.  
The 18-month-old twins were both diagnosed with a severe form of cerebral palsy amongst other life-threatening conditions and visit Derian House for respite.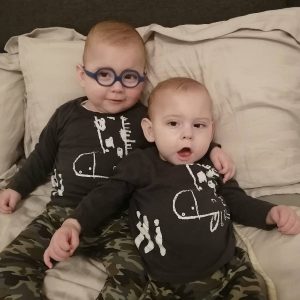 Daniella continued: "What kept us going was thinking about Arthur and Tommy and the next level care they receive at Derian House. The hospice has changed our lives in such a massive way and our goal was to raise as much money as possible to help more families to receive the same care and support that we couldn't be without." 
The care provided at Derian House is free for families, but services cost £5 million to run every year. With only 12 per cent of funding coming from the government, the charity relies heavily on its supporters. 
Sarah Proctor, Community Fundraiser at Derian House said: "We couldn't be more proud of Daniella and Julian for completing their 30-mile walk from Bolton to Blackpool. To receive support like this is vitally important to us now more than ever to ensure we can continue to care for the children and young people who need us most." 
You can still sponsor Daniella and Julian's walk here: https://www.justgiving.com/fundraising/daniandjuewalk