OVER £12,000 was raised by Lancashire families taking part in Deck the Halls for Derian House Children's Hospice.
With the hospice's usual programme of Christmas events unable to go ahead, Derian House reached out to the local community for help raising vital funds.
More than 25 families throughout Lancashire transformed their homes with sensational light displays and dazzling decorations to spread Christmas cheer to their neighbours and friends and to raise money for the children's hospice.
The charity created a trail map featuring all of the homes taking part in Deck The Halls so that supporters could visit each of the different displays and enjoy a magical evening in the run up to Christmas.
Delighted by what they saw, donations of support and well wishes came flooding in.
One of the houses alone raised an incredible £1,215. Ian Clifton, from Morecambe, has been decorating his home at Christmas time for the past 25 years and has raised over £75,000 for Derian House to date.
Ian said: "I'm really pleased with how well we've done this year. Times are hard for everyone at the moment so I was surprised by the level of generous donations.
"It's hard work putting up all of the lights, but it's always worth it. I'm very grateful to the helpers and to the visitors for their support."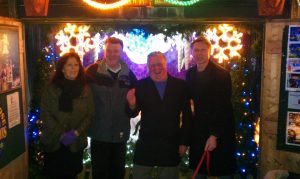 The 'Highland Drive Elves' of Buckshaw Village raised over £500 for the children's hospice. Head elf, Marian Fraser said: "I saw an advert for Deck The Halls in the Derian House Christmas catalogue and wanted to get involved. Me and my husband Graham started decorating and all of our neighbours got on board too. It really cheered everyone up, especially with lockdown. It's the first time I've been involved with any fundraising like this and I'm amazed at the amount we raised.
"Everything came together really well, we have great neighbours who kept thinking of new ideas and little extras, like Melissa and Liam who made up bags of reindeer food for the children to enjoy and a kissing arch with mistletoe. Now that the lights have been taken down, we're already looking forward to doing it again next Christmas. Everyone who donated said Derian House was such a worthy cause."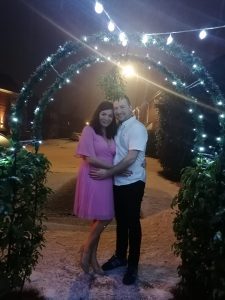 Derian House Children's Hospice looks after more than 400 children and young people with life-limiting conditions from across the North West.
2020 was a difficult year for the hospice with community fundraising events cancelled, including the Winter Sparkle Spectacular which is held each year in Astley Park. Its network of charity shops was also forced to close, further impacting the charity's finances.
Mick Croskery, Community Fundraising Manager for Derian House said: "Deck The Halls has been a great success and such a positive way to end the year.
Lighting up your home at Christmas is an activity which lots of people do every year without realising that it could raise much needed funding for charities. In past years, we have been very lucky that people have thought of fundraising for us in this way. This year we asked more people to get involved and brighten up their neighbourhoods to raise funds for our children and families.
Not only has the fundraising been fantastic, it's also given communities something to get excited about during what has certainly been a very different festive season. Thank you to all of those who decorated their homes and to everyone who donated."