SUPPORTERS, staff and volunteers from Derian House Children's Hospice joined together on Friday 1 October to celebrate Derian Day.
The fundraising event marked the 28th Birthday of Derian House Children's Hospice which opened in October 1993 and today cares for more than 400 babies, children and young people from across Lancashire, South Cumbria and Greater Manchester.
Participants were encouraged to show their support in their own unique way, by taking part in #DerianDay.
Staff and volunteers at the hospice turned their casual Friday green and glittery and also held a bake sale.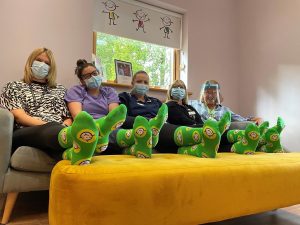 There were more celebrations in store at the Derian House charity shops where the teams had created eye-catching green window displays and were selling a range of Derian Day merchandise including the popular Danni socks – green, spotty socks featuring the charities mascot (don't be green with envy, you can still get your pair here!)
Sarah Proctor, Community Fundraiser at Derian House said: "We wanted Derian Day to be the biggest, brightest and greenest day of the year! Thank you to everyone that made that happen by getting involved in so many different ways.
"All of the money raised helps us to continue caring for children and young people with life-limiting illnesses from across the North West."
Schools, businesses and individuals from across Lancashire joined in the fun raising money and awareness for their local children's hospice.
Tiddlywinks Pre-School in Leyland organised a raffle with green coloured prizes including hampers of green confectionary and toiletries and even a children's Preston North End away kit.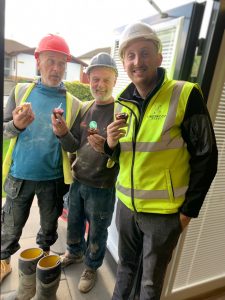 Preston-based house builder Kingswood Homes hosted a coffee morning in celebration of Derian Day.
Laura Hughes-Jones, Sales and Marketing Coordinator at Kingswood Homes said: "We wanted to do Derian Day because a coffee morning is a really good way to get everyone involved from the office staff to the sales staff to the site team. We had people baking their own cakes and also bringing a mountain of cakes and treats in and it was good fun as well as raising money for an amazing cause."
The generous house builder has also donated a brand new home worth £250,000, on their Green Hills development in Feniscowles, to give away in The Great Big House Giveaway. Tickets, costing from £5 can be bought by visiting www.derianhouse.co.uk/house
Stephen Salmon, from Preston, completed a 100-mile bike ride around Lancashire, stopping off at each of the Derian House charity shops.
He said: "I've recently returned to training and thought I'd take the opportunity up on Derian Day to challenge myself and raise money for a charity close to my heart. It was a long, hard day in the saddle and not in the best of weather, but I pushed on to complete the mission. Thank you so much to everyone that supported me, it really means a lot."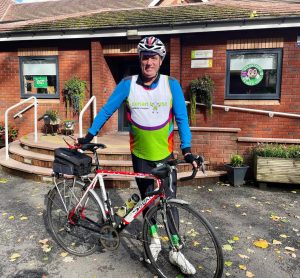 The care provided at Derian House is free for families, but services cost £5million to run every year. With only 12 per cent of funding coming from the government, the charity relies heavily on the generosity of its supporters.
The total amount raised on Derian Day will be announced on social media in the coming weeks and plans are already being made for next year's birthday celebrations.
If you would like to get involved in Derian Day or you are interested to fundraise for Derian House on another occasion, please contact a member of the fundraising team on 01257 27127.