Ryan, from Blackburn, first became aware of Derian House when his former school Darwen Vale held one of their annual all-day circuit training days in aid of the hospice.
Since leaving school Ryan, now 23, has continued to raise both money and awareness for the hospice and is a fantastic ambassador for young people.
Ryan, who is an Operations Lead at BAE Systems at Warton, said: "I started fundraising for Derian House when I was at school – I've known about Derian House for around 10 years now.
Wayne Hartley, a fellow community ambassador – I still know him as Mr Hartley – runs the all-day circuit training at Darwen Vale. I did it for the last three years while I was at school and returned a few years later for another crack.
"I remember, just before the circuit training, we visited the hospice. I will never forget that first day. I remember thinking, what am I doing here on a Saturday morning? I don't think I fully understood where I was going at the time; Derian House completely changes the way you think of a hospice. I saw what it was all about – this incredibly happy place that does so much good for the residents and their families."
In 2018, then 18-year-old Ryan set himself a challenge to run at least 3 miles every day throughout the year for Derian House. He raised more than £10,000 and helped the charity gain national coverage when BBC Radio One surprised him live on air to congratulate him for his amazing dedication to charity.
"I decided I was going to do a 'run every day of the year' challenge." Said Ryan. "I ran abroad on holidays, through illnesses and every weather condition you can think of. No matter what I was up to, I had to incorporate a run into my day.
"I was posting about what I was doing on social media and that helped to bring in some funds throughout the year. Then, around Christmas, as I was getting towards the end, Radio 1 were doing a 'festive feeling' campaign and were looking for people who'd done good things in their community that year.
"I'd come downstairs one day and my mum had Radio 1 on. Greg James had started talking about this campaign they were doing, and this lad who had been doing some running. Whilst you could never in your wildest dreams think it was about you; I thought that's weird, that sounds a lot like someone I know!

"So for run 347 I went from my house to Witton Park in Blackburn and all of my family and friends were there, school teachers and the cast of Peter Pan. Plus a brass band, a choir, and there was hula hooping for some reason." Ryan laughed. "It was unique, but brilliant.
"At the end of the breakfast show everyone kept saying to me, have you seen your fundraising page? And it had gone from £1,500 to like £5,000 in that time and I remember thinking that's crazy – I'd never seen anything like that before.
"I had this hashtag for the challenge – #runforryan – If you still go on that hashtag today, there are thousands and thousands of messages. It's mad. I can't even explain to you, the feeling I had that day. That year was what made me a fundraiser I guess.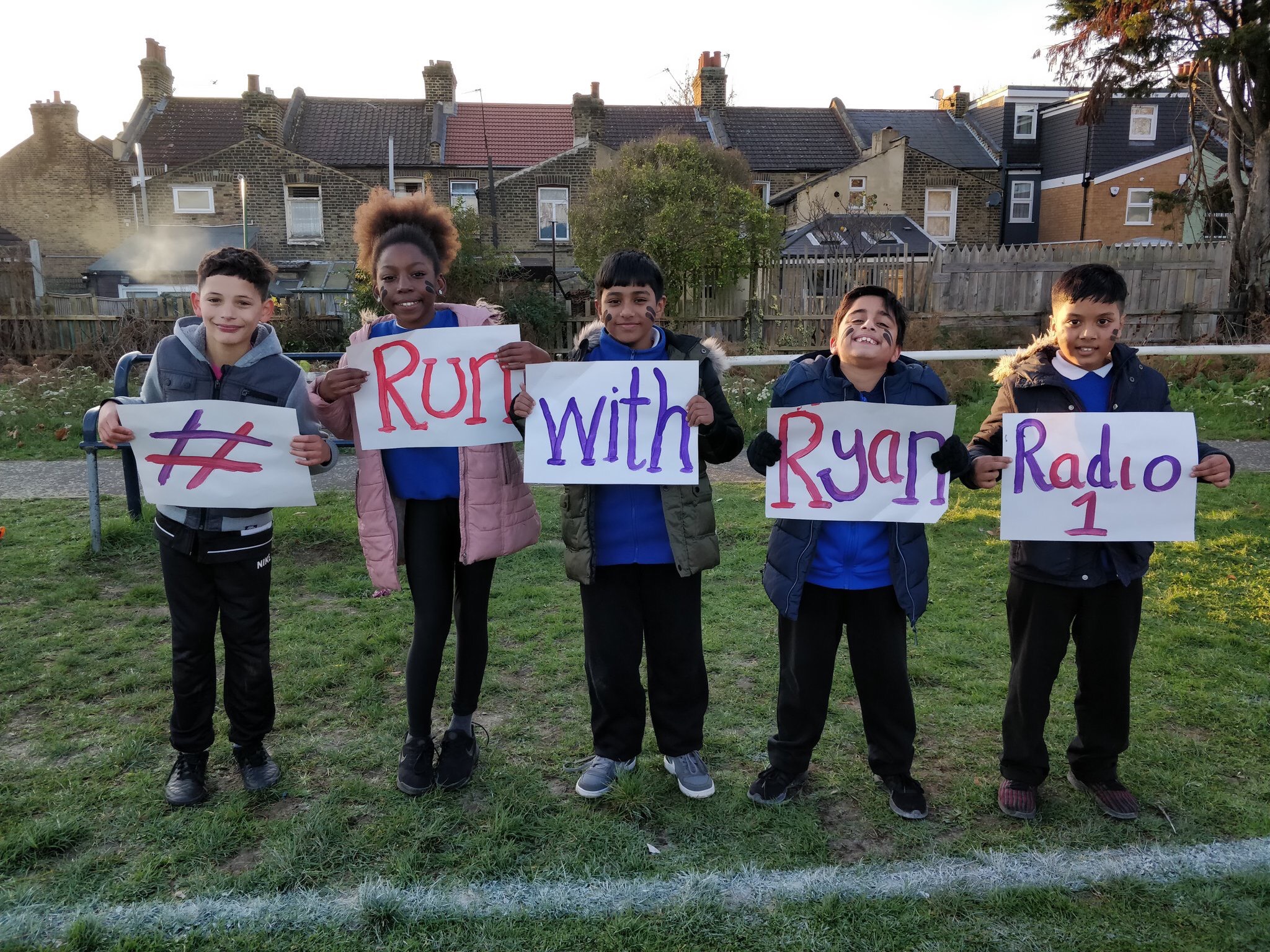 "I went back to work and they wanted to match my fundraising – bringing my final total to £10,220. After that I met up with Mick from the Derian House fundraising team again. We went for a brew, and he asked me if I'd like to be an ambassador for Derian – and of course I said yeah.
"You can't really explain it, that feeling of giving – of helping others. So I did it again. In 2020 I rode a child's bike from London back to Chorley to raise money for Derian." The challenge raised £2,165 for Derian House.
When asked why a child's bike, Ryan said: "because it's too easy on a normal bike.
"That was hard," Ryan continued, "there were some dark moments during that – I'm not invincible.
"I've been to a lot of Derian's events such as Stars and Cars too. You see how much a small charity can engage and reach a community. I'd never seen anything like that before.
"I'm always thinking – what can I do next? So this year I'm doing Ironman UK in July, which is the toughest physical challenge I believe that anyone can do. That's a 2.4 mile swim, a 112 mile bike before finally completing a marathon.
"When I do something to raise money for Derian House, I can see the incredible work that they put the funds towards, and I want to encourage more people to help out and get involved.
"I'm inspired by real life heroes, normal people doing extraordinary things. Dropping everything to help others – now that's inspiring. When you do something for charity it brings something out of you – it's not what you're doing but why. You don't just rock up one day and decide to put yourself through that pain if you do not believe in and are not inspired by the charity.
"I have been approached by parents whose children use Derian House's services – hearing their stories really puts it into perspective. These individuals and their families are what it's all about. It's how special Derian House is for so many people. I'm such a small cog in the wheel, but I feel privileged to be a part of it."