Thomas Hardie Commercials is raising money for Derian House Children's Hospice with its eye-catching new truck.
The new Volvo FH Globetrotter demonstrator sits at the centre of the dealer's 'Drive it for Derian' campaign and will be unmissable on the roads with its bright yellow and green design featuring the Derian House mascot, Danni.
Every customer that takes the vehicle will be invited to make a voluntary donation towards the campaign, with the Volvo dealer planning to raise at least £5,000 across the year.
Steve Wilson, New Vehicle Sales and Marketing Director for Thomas Hardie Commercials, said: "We've been supporters of Derian House for over 25 years, and it is a cause that is close to the hearts of many people in the area. Each year we aim to hold a charity day to raise money for the hospice, but COVID-19 stopped us being able to put on the event that we wanted. Instead, we decided to use the new truck to help raise money and awareness for this fantastic organisation.
"Our aim is to generate as much exposure for Derian House as possible. Like many charities, donations have reduced over the past year, and we wanted to do everything we could to help."
The colourful and fun design includes a 'Text to Donate' number to encourage donations when the vehicle is out on the road and at industry events.
Thomas Hardie Commercials visited the staff and children of Derian House on 26 May to unveil the new truck. The children's faces beamed with excitement as the truck rolled in to the hospice carpark and beeped it's horn at the their request.
Sara Eltman, Corporate Partnership Manager at Derian House Children's Hospital said: "The awareness this truck will raise for Derian House is going to be fantastic. Our donations have significantly declined during the pandemic, with the forced cancellation of so many events and the temporary closure of our charity shops. The funds this truck generates will help us to continue to care for the children and young people who need us most.
"We are hugely grateful to Thomas Hardie Commercials and its customers for supporting us. The truck is a real head-turner!"
Derian House Children's Hospice provides respite and end-of-life care to more than 400 children and young people from across North West England. The care provided at Derian House is free for families, but services cost £5 million to run every year; the charity relies heavily on the generosity of its supporters and corporate partners.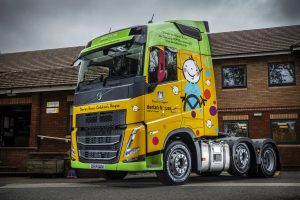 To make a donation to the 'Drive it for Derian' campaign, please visit Thomas Hardie Commercials' fundraising page: https://www.justgiving.com/fundraising/driveitforderian or text DERIAN to 70450 to donate £5.
To make an enquiry about the vehicle, please contact your local Thomas Hardie Commercials dealership https://www.volvotrucks.com/en-en/dealer-locator.html