THREE young people have been given a foot on the career ladder thanks to an innovative new government scheme at Derian House Children's Hospice.
Mahwish, Aarron and Patrick have been taken on as shop and warehouse assistants to help run the charity's busy high street stores thanks to the Kickstart Scheme.
The new youth job creation scheme provides funding for six-month job placements for 16 to 24 year olds who are at risk of long-term unemployment.
Andrew Upton-Ford, Head of Retail and Online Sales for Derian House said: "Giving young people a chance is very important to us. When I discovered that the Kickstart Scheme had been made available to smaller organisations I was very keen to for Derian to get involved.
"I see this as a great way to get talented young people working in our stores and provide them with the necessary skills and experience to embark on a rewarding career in retail."
Derian House Children's Hospice currently has charity shops in Preston, Leyland, Chorley and Horwich, and is opening a new shop in Blackburn this summer.
The shops provide a vital stream of income for the children's hospice, which cares for more than 400 seriously ill babies, children and young people from across the North West.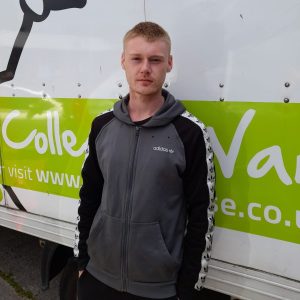 Aarron Kent, 24, is one of the new team members joining the Derian House warehouse team. He lost his previous job in December during the pandemic meaning Christmas was really tough.
He said: "I found out about the Kickstart scheme through my local job centre and was already aware of Derian House and the amazing work they do. It was really easy to apply and I'd encourage anyone finding it difficult to find a job to go for it!"
Mahwish Aurangzeb, 24, and Patrick Arnfield, 20, had both previously worked in retail and join the Derian House team as shop assistants.
Mahwish said: "I'm really looking forward to being back in a busy retail environment, I've missed being part of a team and interacting with customers."
Patrick added: "The Kickstart scheme has helped me to get back in to work but it feels even better to be giving back to the community too."
To find out more about Derian House Children's Hospice, visit www.derianhouse.co.uk More details about the Kickstart Scheme can be found at www.gov.uk/kickstart